IT Project Management
Expert IT Services & Solutions
With so many moving parts, technology projects can be overwhelming to execute. Missed deadlines, surprise expenses, and unforeseen risk factors can have your project off the rails before you know it.
Consider outsourcing your IT Project Management to an IT MSP company. Whether you have a project that needs rescuing or you're planning a project that you want to get off to a great start, an IT Project Management service can help you define scope and mitigate creep, manage resources, and streamline communications — all to keep your project on time and on budget!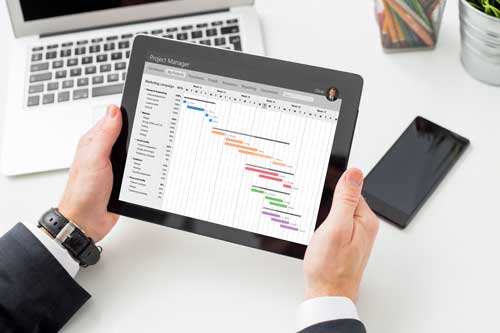 Benefits Of Selecting An IT Project Management Partner
The right IT Project Manager can help you:
Define project scope
Alleviate scope creep and manage change requests
Define and manage project processes across teams
Track time and tasks and observe trends
Manage vendors, contracts, rates, policies, and SLAs
Track deliverables and dates
Report status
Create and maintain project documentation
Supervise administrative tasks
Facilitate communication
Coordinate various deployment initiatives
Manage budgetary and personnel resources
IT Project Assistance from Wolf TG
Wolf Technology Group is your partner for IT Project Management. Projects we manage can include:
Network implementations or upgrades
Custom software development
Wi-Fi Mesh Network implementations and upgrades
Phone system implementations and upgrades
Cloud migration
Office relocation
And more!
If you've got a technology project that you're thinking you might not want to manage in-house, give us a call at (833) 482-6435 or contact us online. We'll be happy to talk through your project with you and help you come up with the right solution to give your project its best chance of success.