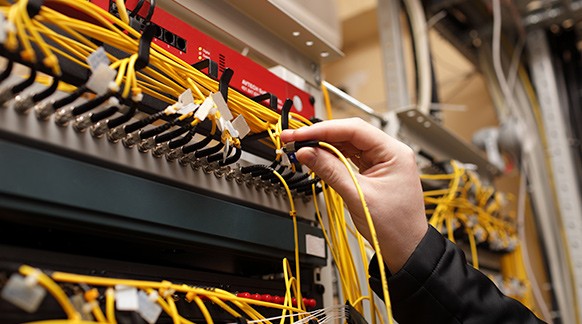 Network Cabling Services
Get the Best Cables for the Best Network Service
Many business owners believe their network cables only need replacement or repair when they start to look worn, or when network speed drops to a crawl. The truth is, if you wait until your network cables are totally broken down to call for help, the repair and replacement process will be far more expensive than it needs to be.
As the Southeast's leading IT company, Wolf Technology Group is able to come in and provide those essential repairs and individual cable replacements to keep your facility safe, up to code, and able to access the high-speed, quality network connections you need for your business to operate smoothly.
Custom Network Cable Installation
Are you preparing for office relocation or opening a new location that doesn't have high-quality network infrastructure in place? Have your network speeds dropped dramatically? Is your network unable to keep up with the demands your business places upon it during day-to-day operations? If any of these things are true, your network cables aren't doing the work you're paying for, and you deserve better.
Wolf Technology Group can provide the inspections, design work, installation, and upkeep you need to ensure your essential network infrastructure works for you. We can help you scale your network cabling to grow alongside your business needs and ensure you are receiving the high-speed network connections you require.
Give us a call at (833) 482-6435 or contact us online and let's get started on ensuring you have the quality network cabling services you deserve.