New Construction Network Cabling
Custom-Built Cabling for Your Business
Cabling your new office can be one of the trickiest things about deploying a new network. Contracting a professional cabling company to run new network cables in your new office construction is a sound investment.
You will probably need to use Cat5e in your new office to achieve Gigabit network speeds. If cabling is poorly installed, it can lead to a whole host of networking issues that may not be easy solve.
When you contract a trusted IT service provider to help install new cabling into your office, you can rest assured that many potential issues can be circumvented before they ever become a problem. You're probably wondering, what issues could my business encounter if the new office construction is poorly cabled?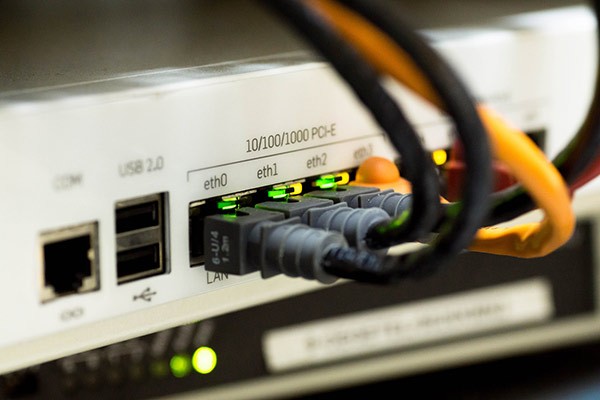 This might seem obvious, but the integrity of the physical data links between the devices on your network is critical for optimal performance.
Torn cables may not seem like a big issue at first but as you begin adding more infrastructure into your office, the risk of torn cabling increases.
If a cable is concealed behind a wall or in a ceiling, you may not know that the potential for torn cabling exists.
That is why it is preferable to bring in a professional cabling expert who can help you identify potential problems before they present themselves, and design a network that will meet your business' unique needs.
Most IT people have seen pictures of a poorly cabled networking closet. These pictures are a direct result of the IT staff not using the best practices in cable management.
While cable management isn't critical for the operation of a network, having loose cables in your networking closet could present several risks. What if someone trips on the network cabling and yanks the cords out the switch?
What if someone inadvertently damaged a network cable when making a network change? What if you need to rapidly trace a network cable in order to further pinpoint a potential issue?
Cable management is important because it solves problems before they have the chance to exist. You could use cable management schemes such as color coating your networking cables. These colors can help network administrators rapidly resolve a problem rather than using diagnostics and network troubleshooting tools.
Labeling your cabling and the ports that they connect to in your office is a best practice that will save your IT staff time, money, effort and energy when troubleshooting a networking problem.
Using a numbering scheme for the ports available to each end user and matching those numbers up with the numbers on a patch panel is a good way to streamline network troubleshooting process.
If your business adheres to an ad-hoc method of running cabling without providing any labels, your business could suffer downtime over a rather trivial networking problem. Cable labeling is important, especially if you have multiple switches on multiple floors of your new building.
Without cable labels, your IT staff could find itself scratching its head as they unplug and re-plug cables into switches in order to resolve a networking problem. Cable labeling is a best practice because it provides an easy system of figuring out what cables go where.
This provides IT technicians who may not have been involved with the construction of the network with an easy way to figure out your new office's network cabling scheme.
Whether you're part of a bigger company setting up shop in Greenville, SC or Atlanta, GA for the first time or you've been here in the Southeast for years and have grown out of your current office, we can install or repair all the wiring in your new office. Give us a call at (833) 482-6435 or contact us online today to contact our team of network wiring professionals!
Call Wolf TG To Take Care Of All Your Network Cabling
Whether you're new to the area or you're treating yourself to a brand new office space, call the experts at Wolf Technology Group to handle your network cabling. With locations in Greenville, SC and Atlanta, GA, we can take care of just about any new construction in the Southeast. Give us a call today at (833) 482-6435 or contact us online to hand off the cabling to us and get back to focusing on your business.